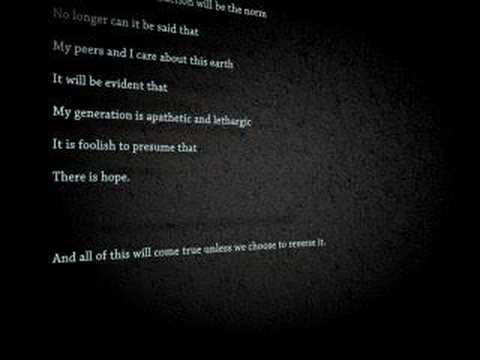 Note: This assignment was presented to students using PBworks. This is the content:
Assignment:
1. view this video.
Lost Generation
Lost Generation
Think about these questions together before starting the work in Word.
1. What impact does this have on you for the issues mentioned?
2. Could a video with the second part only have the same impact on you?
3. How does this video help you learn about yourself and your generation?
4. How important is the readers voice in help you understand the message?
5. How important is the visual presentation in helping you understand the message?
6. What other ways would you use to present the message using You Tube?
7. How important is the media in delivering the message of the "Lost Generation" to yourself at this time?
8. Extra stuff you thought of for sharing about the learning activity.
2. Viewing and Comments
Use Word to prepare the comment on the above 7 inquiry items, then highlight, copy, paste and post you work for sharing.
The You Tube Video will be played in two parts. Press pause at 51 seconds and comment on the Initial Impact of the first part.
In Word, type the heading then make a comment
Initial Impact of first part
Initial Impact of the second part
Below these two comments, answer the other 8 items. The work in Word will be copy and pasted into the comment box after Word work is finished by everyone.